Where to Find America's Most Amazing Meals for Bacon Lovers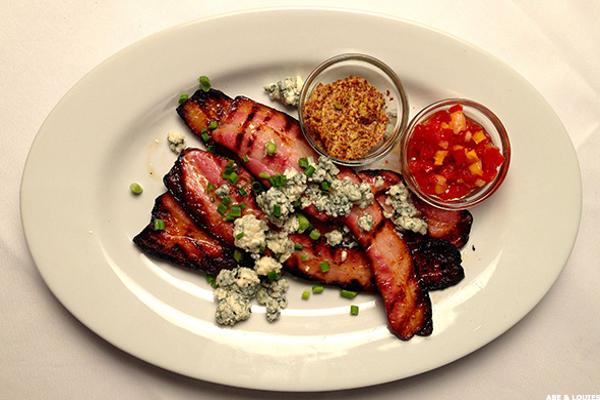 Abe & Louie's is such a popular bacon destination that the meat has earned its own spot on the appetizer menu. The restaurant's bacon dish is wood-fired, topped with fresh blue cheese and served with whole grain mustard and peppadew relish.
A key factor in the appetizer's savory flavor is its source, says Tavistock Restaurant Collection Culinary Director Patrick Quakenbush. Abe & Louie's is not serving just any old bacon, but product from Nueske's — a family-run business dating back to 1887 that makes a nearly revered bacon. The family came from Europe to Wisconsin, bringing along dozens of recipes for spicing and curing meat.
"Not only do they have century-old recipes, they import all of their seasonings from Italy and smoke everything over Applewood," Quakenbush says. "When you have bacon like that, it eats great by itself. So we cut it really thick and simply grill it … you have this smoky, sweet bacon with creamy blue cheese."
The restaurant has sold 1,700 pounds of its famous bacon appetizer just since Jan. 1.